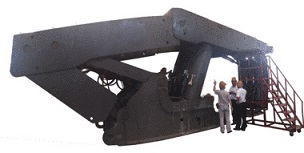 Our principal Tiefenbach sets world record in China
Tiefenbach Control Systems GmbH won the tender for the delivery of an electro-hydraulic control system for the world's largest shield support. Tiefenbach is responsible for development, design and delivery of the entire electro-hydraulic control system as well as for the safety. 
With a height of 8.80 metres and a width of 2.40 metres, these are going to be the worlds largest ever built shield supports.
With the given contract Tiefenbach strengthens its position as the market leader for electro-hydraulics in the largest sales market of Asia for mining products. Furthermore, Tiefenbach again sets standards with their solutions for demanding challenges. More than 120 longwall faces worldwide are already provided with the technology "Made in Bochum".